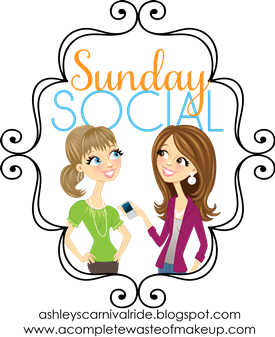 Linking up with Neely and Ashley for another Sunday Social. Such a fun way to meet other bloggers!
What is the wallpaper on your cell phone?
My locked screen is Poppet and Leela napping, my screen background is baby Fry-cat. I take being a crazy cat lady seriously!
What do you keep beside your bed?
A book, some water, some moisturiser, phone and charger. Oh, and a lamp of course - having to get out of a cosy bed to turn the light off is such a pain!
What is your least favorite chore?
Probably hoovering. Or cleaning the bathroom. I always love once they are done though. :)
If you could eliminate one thing from your daily routine, what would it be?
Probably my commute. It's not too bad (some in the city travel for 2 hours plus each
way
), but spending 100 minutes plus on the to-and-fro can get wearing - particularly on dark winter mornings and nights! However, I do love our house and it gives me a chance to read, so it will serve. At least until they invent teleporters!
What do you do to vent anger?
I deal with anger in a very tangible way...as a child I struggled a lot with this aspect of my character. I have a hot temper but was terrified of hurting people/having people leave me, so I turned it all inwards. Not good.
Now if I'm angry, I take action. First and foremost I like to figure out why I'm angry...sometimes it's just me being ill/tired/stressed. Then I act on the information - sometimes I punch a few pillows, sometimes I listen to loud music, sometimes I work out, sometimes I just go home and curl up, or tuck myself in early. I'm a firm believer that anger itself is not a bad thing, but what you do with it can be!
What is your favorite Holiday of the year and why?
It's all about Christmas, baby.