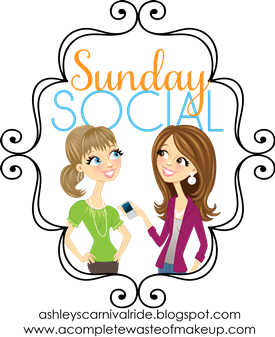 This week on Sunday Social: We're getting deep
What is your ideal way to relax?
Oh man, I'm a world champion at relaxing. The pace of my life is often frenetic, so downtime is delicious. I like to read, to write, to bake, to nap, to watch a movie. It think it's important to build laziness into your days to keep yourself feeling fresh and replenished.
Where is your favourite place to be?
First place that springs to mind is my comfy, comfy bed. Despite the 5 am calls in the week, I do love sleep, and an extra hour or two to nap or read is not to be sneezed at! There are also a lot of places that spring to mind - Hampstead Heath, Primrose Bay, anywhere I'm enjoying brunch with good friends, in Mogán with Matthew.
Who do you consider your biggest role model
I'm very lucky to have a bunch of people in my own life to look up to (my parents, my friends, several colleagues) and have myriad others I admire - writers, singers, bloggers, politicians, Maya Angelou, Oprah, Charlotte Mason, Hillary Clinton, Audrey Hepburn...I love learning about the lives of others and taking lessons from them!
What does your life look like in 3 years?
Well by then I'll be thirty-five....how very grown up! I hope I'll be enjoying my job as much and will be in a role that fulfils me - whether that's as a class teacher or a higher up or working part-time. I hope Matthew and I will be together and happy and still enjoying our house and being entertained by our cats. I hope to still have such a great group of friends, still be writing, and surrounded by love and laughter.
If you could go back and change one decision what would it be?
As a Doctor Who fan, I know that changing history is dangerous. There are a few decisions I regret, sure, but every misstep led me here. And I like here.
What is your biggest accomplishment in life thus far?
Ooooooh, this is a toughie! The obvious choice would be earning my degrees, or doing well in my career, but there are lots of other ones I'm proud of too. There's a way to go, but I'm getting there!